VAN GOGH IN THE STÄDEL MUSEUM
Like many modern artists, Eberhard Steneberg (Weimar, 1914-1996, Frankfurt am Main), was inspired by Vincent van Gogh. This is clearly visible in the restricted number of figurative paintings in his oeuvre (see below), but also in his unconditional dedication to his artistry.
At the current exhibition "Making Van Gogh" in the Städel Museum in Frankfurt am Main, the contribution of German artists, art critics, art collectors, gallerists and museum directors are highlighted in creating the myth surrounding the artist Vincent van Gogh.
In this Frankfurter blockbuster a few of Van Gogh's numerous self-portraits are shown alongside self-portraits of modern German artists. Unlike these fellow artists, Steneberg never created an image of himself in a similar vein to Van Gogh. In his trees, flower- and vegetable still-lives of the late 1940s and early 1950s, however, his flirtation with Van Gogh is evident (see images below).
In the postwar period Steneberg worked for the 'Theater of Tanz' in Weimar and met the dancer Olinto Lovael, whom he described as "Von Van Gogh besessen". Olinto danced the "Zouave" on music by Manuel de Falla and Steneberg's mother sewed Olinto's costume after a reproduction of this Van Gogh painting. The dancer, infamously known as Otto Wacker, occasionally gifted the artist a tube of oil paint, brush or sunflowers, rare items at the time. The artist and dancer last met in 1947.
Steneberg then fled to the West, followed the Van Gogh trail in the Provence and Paris in the 1950s, and kept an eye on the ever lively press on the famous Dutch artist as an avid reader (E.g. Psychophysiologische Abhandlungen Neue Folge I.2, 1963, published by the Ferdinand-von-Arlt-Akademie für Psychophysiologie und Farbenpsychologie).
During one of these study trips to the Provence in 1956, Steneberg lost his left hand during an accident. The well-known Frankfurter Maecenas Hanna Bekker vom Rath came to his rescue and paid for the necessary treatment in a hospital in Avignon. Steneberg was heavily drugged and suffered from hallucinations as a consequence. He then briefly identified with his favored artist: Vincent van Gogh in St. Remy.
The Frankfurter blockbuster "Making Van Gogh" can be visited until 16-02-2020! Another Van Gogh exhibition on German soil, focusing on Van Gogh's still lives, until 2-2-2020 in Museum Barbarini in Potsdam!
Wishing you a happy new year with inspiring art exhibitions!
E. Steneberg, An den Ratstannen, 1946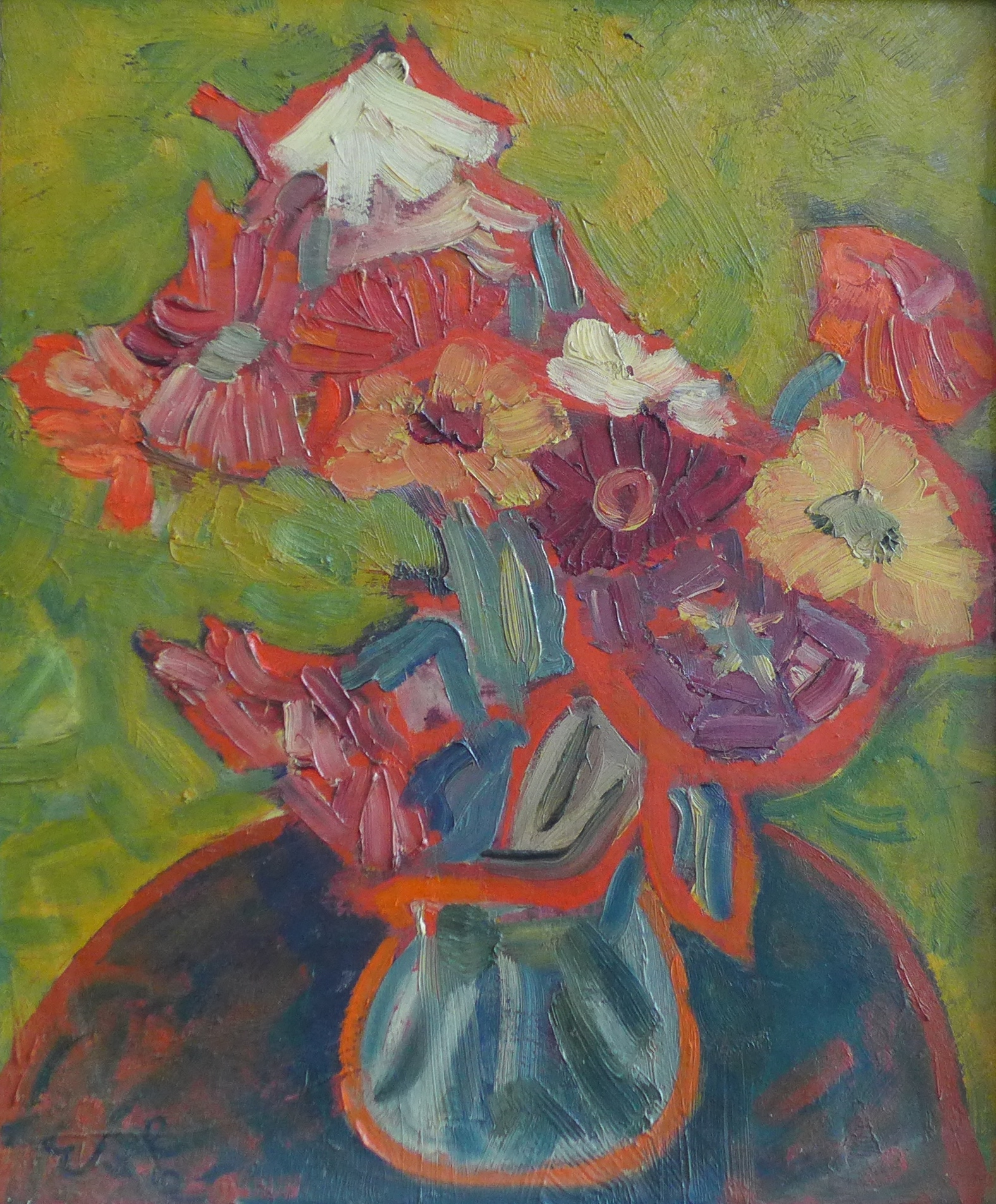 Eberhard Steneberg, Zynien, 1948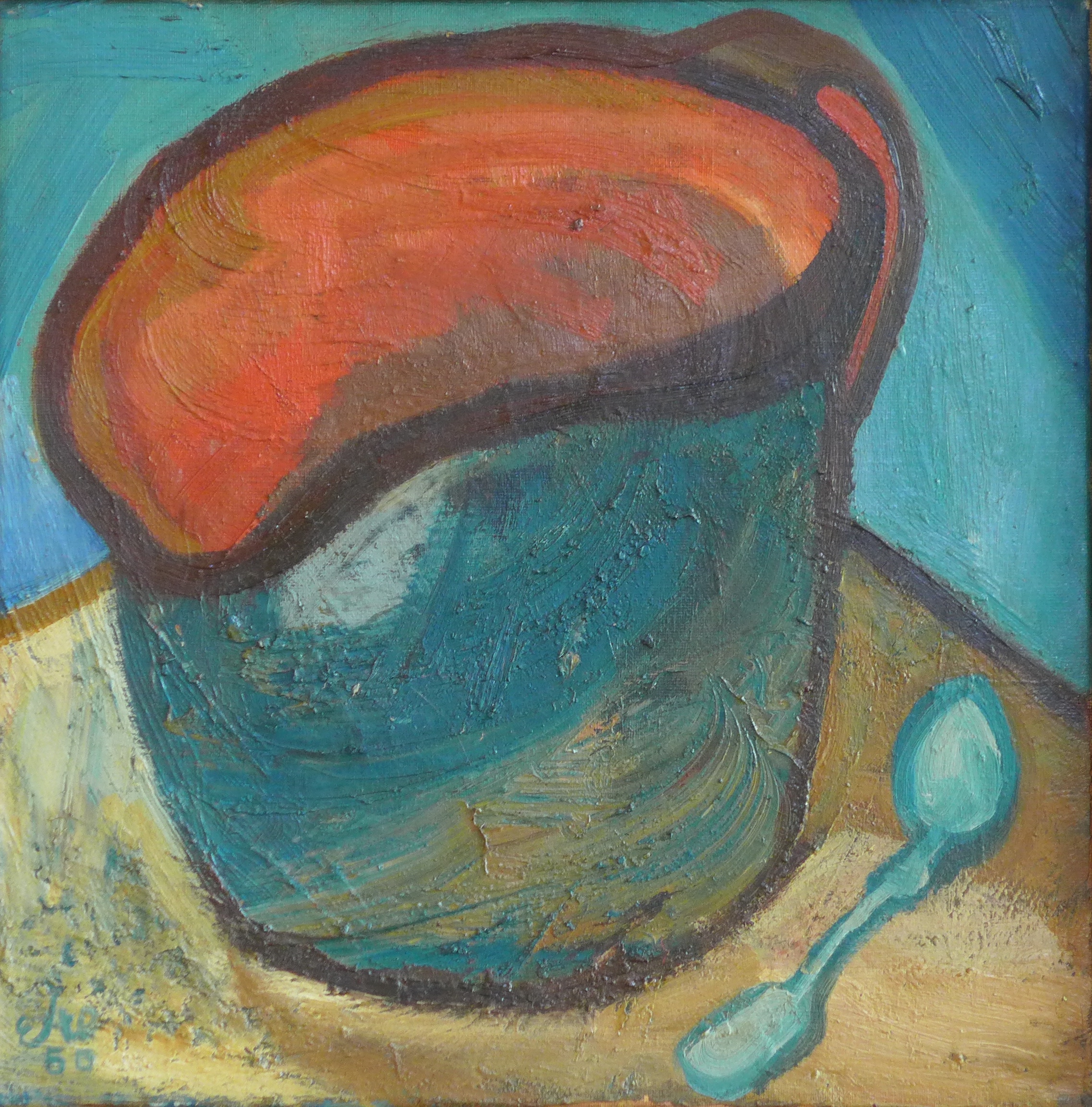 Eberhard Steneberg, Ohne Titel, 1950